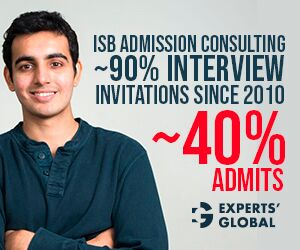 Here are all the main aspects about the ISB PGP applications for 2018-19
Eligibility:
– Bachelors degree or equivalent in any discipline
– Valid GMAT / GRE score
– At least 24 months of full-time work experience by March 31, 2019
– TOEFL / IELTS / PTE score (only if the language of instruction at undergraduate study level is not English)
Admission Calendar:
– Round 1: 15th September'18 (Decision by November'18)
– Round 2: 15th December'18 (Decision by February'19)

Acceptance Date: 10 days from the date of the offer
Program starts: 15th April'19
Application Requirements:
– GMAT/GRE score
– One recommendation
– Rigorous application form
– No resume
– Two essays
Essay Questions:
1. At ISB we value diversity as it enhances both the in-class and out of class learning experience. Tell us how would you contribute to the same? (400 words)
2. Enrolling in a Business School is an important career decision. Critically look at your career to date, the choices you have made, the key influences behind those choices, your goals for the future and how do you think ISB's PGP can help you in achieving your goals? (300 words)

Please watch the following video to gain greater insight:

ISB PGP Applications 2018-19 – All you must know
All the best for your applications.