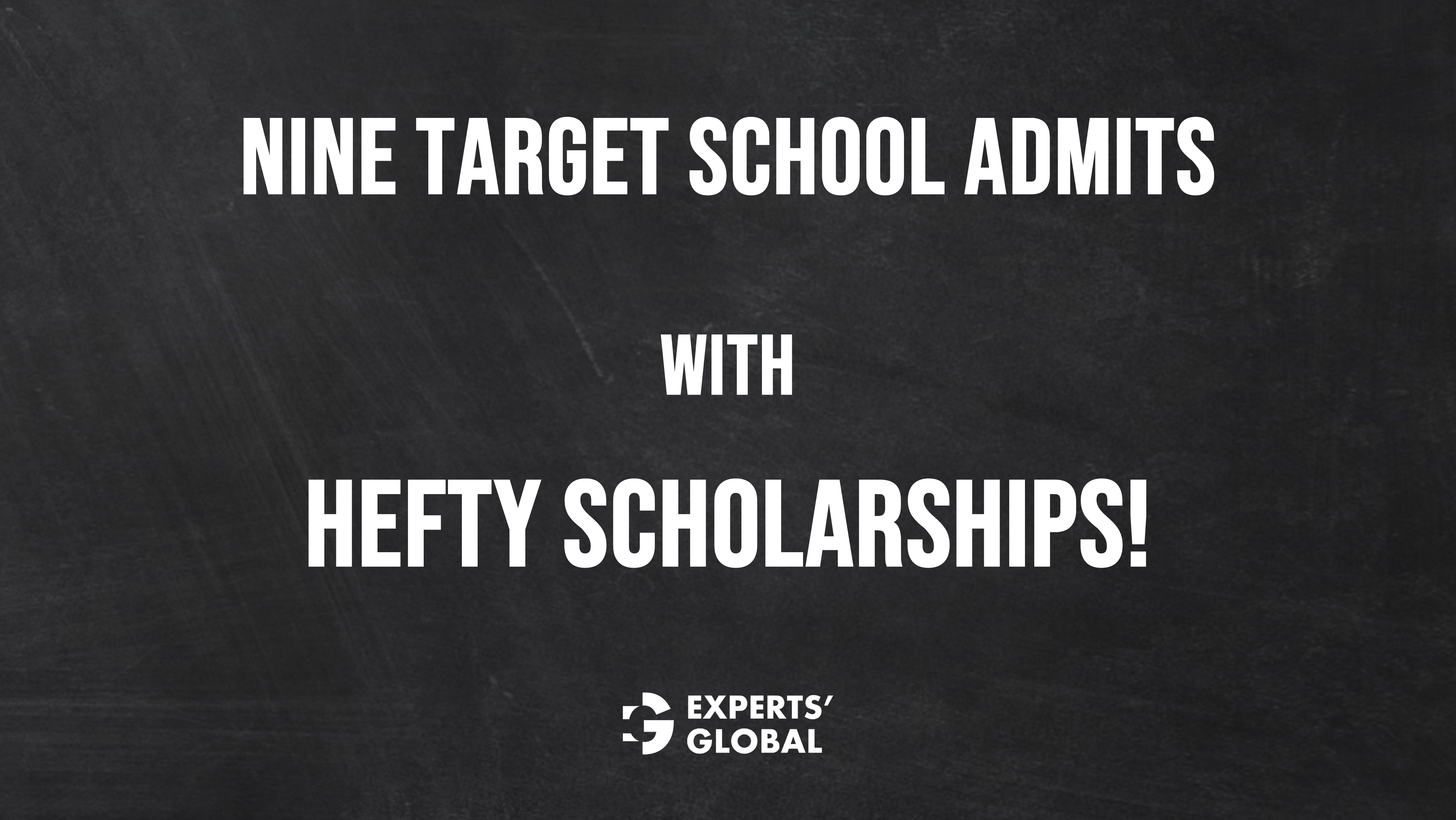 Verbatim
Experts' Global: Hello Kaushik! Thanks a lot for taking out time for this interview. For the readers, please share your journey, your story in your own words.
Kaushik: Hello everyone! I am hoping my story will resonate with at least a few of the applicants reading this. After spending 3.5 years in the EdTtech industry and 6 months in my family-run business, I decided to pursue a global MBA with the aim of upskilling myself with business understanding across different industries at a global level. Coming from an engineering background, I decided to take the GRE as I had all the free resources available and I knew people who were willing to guide me through the preparation.
I was able to secure a score I wanted but went on to realize it was not going to be enough; nonetheless, despite the below-par score, I was optimistic about my profile owing to my rich work experience. As the second person in my family to receive formal education and the first person to attempt to apply to foreign universities, I knew I had to rely on external support throughout my application. Thus, after speaking with various admissions consultants, I decided to move forward with the best MBA admissions consultants in India, Experts' Global, referred to me by a friend, who spoke highly about their outcome driven approach.
I was able to secure multiple admits from the top 100 b-schools in the US and was recently interviewed by a top- ranked b-school for which I am currently awaiting results. As I mentioned earlier, Experts' Global's outcome driven approach helped me narrate my story to the Admissions Committee in a precise and eloquent manner owing to which I was able to secure multiple interview invites; Experts' Global also helped me with my MBA interview preparation.
As of now, I am looking forward to pursuing MBA from Kogod School of Business, Washington D.C. with an 80% scholarship.
Experts' Global: In your opinion, what are a few factors, or actions you took, that made the difference?
Kaushik: The most important action I took was to speak with those who had already been through the process of applying to a business school in the US; I communicated with those who were able to secure satisfactory admits as well as those who were not able to. This gave me a fair idea about the dos and don'ts of the applications process.
Receiving support and guidance from Experts' Global throughout the application process was the biggest differentiating factor, which helped me receive satisfactory admits.
Lastly, I believe the extensive resources provided by Experts' Global to understand the importance of each step of the application process helped me gain confidence and this resulted in an extremely positive experience during my interviews.
Experts' Global: With the benefit of hindsight, what are a few mistakes you believe you committed in the process? What are a few common mistakes that you believe future applicants must avoid?
Kaushik: I believe I should have spoken to alums and consultants before taking the GRE to get a better understanding of how a higher score could help me get an admit from a higher ranked school.
Experts' Global: What are the main GRE resources you used in your preparation? What advice will you give to future candidates?
Kaushik: I mainly undertook my GRE preparation online and was dependent on Manhattan Prep Series of 8 strategy guides, Manhattan 5lb, and Magoosh videos. Unfortunately, I did not spend enough time solving mocks, which should have been my priority in the first place.
Experts' Global: What are your thoughts about mock tests? How many mocks and at what frequency should aspirants take the mock tests?
Kaushik: I took 2 mocks just two days before the exam, nowhere close to what one should be doing. This was a major mistake on my part; however, speaking to those who scored well, I have come to understand that mocks should be taken every alternate day after all the concepts and concept specific practice sets have been finished. When you start achieving the desired score on the mock tests, you should book the earliest available slot.
Experts' Global: What would you like to say about your learnings from managing the applications timelines?
Kaushik: Managing the applications felt the same as managing a project at work. There were deadlines for each application, which could only be met if I started working on them at least two-three weeks before the deadline. This ensured the deadline was met with quality work, after having a clear understanding of the program, school, and alumni feedback. I made my best efforts to remain dedicated to this process and was able to secure admits into 9 business schools with scholarships. Here are the names:
Charles F Dolan School of Business
Erivan K Haub School of Business (with $3000 scholarship)
Suffolk (with $3000 scholarship for the first year)
Saunders
SUNY Buffalo
Kogod (with $70,000 scholarship)
Howard University (with $10,000 scholarship)
Weatherhead (with 30% scholarship)
Bentley (with $3000 scholarship for first year)
It is also important to attend webinars hosted by schools to understand what they are looking for in an applicant; this enables one to prepare well for the interview.
Experts' Global: Please describe your interview experience with the school and your MBA experience.
Kaushik: So far, I have experienced two kinds of interviews.
Application oriented interviews, in which I was quizzed on situation-based questions. Thus, I was asked to narrate a situation where I exhibited leadership, overcame failure, or achieved something major. I was also asked generic questions such as why MBA, why the particular school, how the program was suited to my goals, what my long-term and short-term goals were, and what my back-up career plan was.
Personality-based interviews, in which they asked my perspective on things such as what qualities should a leader possess, how I will contribute in a peer-based learning environment, and how I will adapt to a diverse environment, alongside the above-mentioned generic questions.
At the end of every interview, I was always given a chance to ask a question and I made it a point to ask a question in order to showcase that I had spent enough time doing my research about the program. My interview experiences overall were very fulfilling owing to the confidence I gained from my interview prep.
Experts' Global: How has the entire pre-application experience contributed to your growth?
Kaushik: Today, I am in a position where I believe I can help other MBA aspirants by giving them a better idea of what to expect during their application process and how they can avoid making the mistakes I made.
Experts' Global: What are a few suggestions you will give to future MBA aspirants?
Kaushik: The most important thing is to talk to those who have experienced this process. It is not impossible to achieve what you aim for but you need to have a clear understanding of what it takes to get there and that is only possible when you talk to people via LinkedIn, GMAT Club, etc. and reach out to consultants like Experts' Global if you need that additional support and push.
Experts' Global: Thanks a lot, Kaushik, for sharing your valuable suggestions and experiences. All the best for your MBA journey!
Kaushik: Thank you so much! Best of luck to all the future candidates as well.