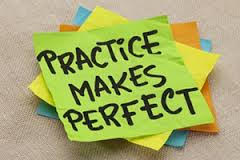 Right in the early stage of studying your GMAT material, begin taking mock tests. You will get an idea about what to prepare for and how much effort to put in.
Some reputed GMAT material providers recommend starting with easy tests, determining whether your basic concepts are clear. The idea is to help you gradually build on your understanding as you progress through your GMAT study material. And to take tests with increasingly levels of difficulty till you move on to a difficulty level consistent with that of the GMAT. Look for GMAT material providers who design mock tests in the computer-adaptive format.
Practice full-length tests. Practicing only quant and verbal will not give a fair idea of scores because on the GMAT, answering AWA and IR will mentally tire you somewhat. It is essential to get into the mode of test-taking and learn how you fare during a four-hour test session. To get a fair assessment, avoid using calculators, etc. during mock tests. Take only as much time for breaks as is allowed on the GMAT and do what you plan to do during your GMAT breaks.
Reputed GMAT material providers explain the necessity of reviewing your mock tests. They provide answers plus explanations for all questions on the mock tests they design. They also enable you to see how much time you took to answer each question and how much time you should have ideally taken. It is important to analyze why you made the mistakes you did.
For every mock test you take, see the number of questions you have answered correctly per section/sub-section. Since it is not easy to crack GMAT's scoring algorithm and the best of mock tests can give only an approximate idea of how you would score, keep a tab on the number of questions you are answering correctly. Doing these tests will help you learn when you can compromise on accuracy (certainly not on question types you are good at); a skill that you will not learn merely by going through your GMAT material. If you find that there are certain question types that you are unable to tackle well, practice more examples of such questions from your GMAT study material.
Timing yourself, building on speed and keeping a tab on your progress is necessary. These will ensure improvement in your scores, which in turn will boost your confidence. Get scores close to your target on a few tests before taking the actual exam. Experts who design GMAT material frame questions similar to how questions are on the GMAT and also recommend taking the GMAC Official Tests for a good idea of your preparedness.
However, as GMAT material designing experts will assert, taking too many mock tests is not good. You can instead use that time in practicing questions from your GMAT material that you are not comfortable with. Mock tests reflect on your preparedness. To improve, you need to restudy your GMAT material and practice more. When you work on similar kinds of questions, you learn to tackle them well. Thus, you will fare well on the practice tests you finally take plus on the GMAT itself.
Take expert help to plan your study of GMAT material plus your mock tests.