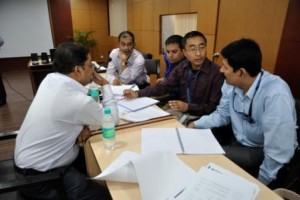 It is essential to understand the Admissions Committee's criteria for selecting candidates during the interview process as that will help in your MBA Interview Preparation.
Drive
While discussing your career goals, the interviewer wants to evaluate whether you have the ability to set an objective and work towards it. While doing your MBA Interview Preparation, practice answers to questions on your long-term goals and your strategy to go about trying to achieve them.
Intellect
Business schools look for a diverse set of students who will contribute towards each other's growth. They are looking for candidates who are curious and desire to learn from each other's experiences. Your MBA Interview Preparation should focus on planning to answer such that your willingness to share knowledge with your peers and inquisitiveness about new things are demonstrated.
Leadership
All business schools look for this quality in the candidates. MBA programmes are instrumental in shaping the business leaders of tomorrow. Hence, they select the candidates who have demonstrated leadership ability in their personal or professional spheres in the past. During your MBA Interview Preparation, you must spare thought and time for crafting a story that will effectively reflect your strong leadership skills. With confidence must you narrate this story to the Admissions Panel.
Relationship Building
During your MBA Interview Preparation, list down instances where you have been a good team player and demonstrated dependability. The Admissions Committee wants to see whether you have the ability to build and maintain healthy professional relationships as teamwork is the key to success in any organization.
Communication Skills
Since you aspire to be a future business leader, your communication skills need to be excellent. The Admissions Committee will look to testing your ability to put across your points in a clear and concise manner. In the course of your MBA Interview Preparation, work by mouthing your answers on some common questions- for example, questions on your career goals or on why MBA is important for you.
Confidence
Confidence is depicted not just by your words but also your body language. It would be a good idea to video-record your answers while doing mock interviews during MBA Interview Preparation and reviewing your response. This will help you identify your weaknesses or repeated gestures that depict your nervousness in the mock interviews. Repeated practice can help you overcome these and display confidence on the final day.
Enthusiasm
The Admissions Panel wants to see whether you are as enthusiastic about the programme as they are in having you on board. During the MBA Interview Preparation process, formulate intelligent questions about the programme. Do not ask questions for which answers are readily available on the website. Because this will show that you have not done your research well.
Ability to Influence Others
Many fields like marketing or sales give lot of weightage to your ability to influence an individual, a group or an organization. In many cases, this quality of leaders has been instrumental in making the business of the organization flourishing. The Admissions Committee looks for this quality in you during the interview process. Prepare yourself with convincing answers based on facts to score brownie points.