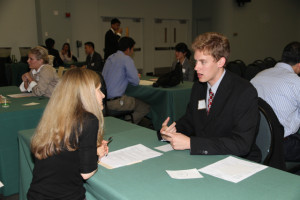 As MBA Interview Preparation is vital to getting admission into B-Schools, there are several things that one should keep in mind during the entire process. Here are some common pitfalls that one must avoid:
Reaching late
Arriving late without informing is seen as unprofessional behaviour. Always reach the venue well ahead of the interview time to avoid the last minute rush. If you foresee being late, have the interviewer's contact details handy to inform him in advance about the same.
Going unprepared for the interview
Giving mock interviews during MBA Interview Preparation for some commonly asked questions on career goals, why an MBA from this school, why MBA is important at this point in your career, etc. will equip you to face the interview confidently.
Not having a game plan
During MBA Interview Preparation, ensure that you prepare a story about yourself that highlights your personal brand. You need to ensure that you have a USP in place before attending the interview.
Not maintaining eye contact
By not having eye contact with the interviewer, you not only display that you lack confidence but you also create doubts in the minds of the interviewer. It gives an impression that you are trying to hide facts. MBA programmes are meant for creating future business leaders who need to have and portray confidence through their words and body language. A candidate with low confidence level would be immediately rejected by the Admissions Panel.
Not answering questions to the point
Do not go off the track. This gives an impression that either you are not listening or are trying to hide something. Admission Consultants offer rigorous MBA Interview Preparation to help you avoid this pitfall.
Arrogant tone
It is important to strike the right tone with the interviewer. You should not let your guards down if the interviewer is friendly and encouraging. Listening to some of the online sample interview videos during the MBA Interview Preparation can help you set your tone.
Not being prepared for asking questions to the interviewer
Almost all interviewers ask the last question- "Any question for me?" Not asking anything will show your lack of interest and asking something which is very much available on the website will show lack of research on your part. During MBA Interview Preparation, come up with few intelligent and well-constructed questions after doing thorough research on the school's website.
Being fake
Though you must portray your strengths in interviews, but you should always stick to facts and not put up a fake act. Admission Consultants can give you tips on how to highlight your skills without sounding phony during the MBA Interview Preparation.
Failing to address your weaknesses
If you do not have a strong academic background, you might have to give convincing explanations for a low GPA. An Admissions Consultant will be able to help here by preparing you for an answer which doesn't sound as an excuse during the MBA Interview Preparation.