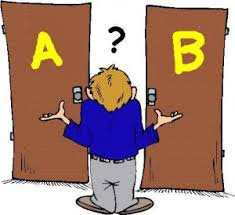 The best among MBA Admissions Consultants in Delhi can enable you to secure admissions into multiple B-schools on your short-list. The short-listing, when done with guidance from worthy Consultants, is a result of thorough assessment of your profile and aspirations. The short-listed programmes hold the promise of turning dreams into reality. How, then, do you decide which is the best fit?
The knowledgeable MBA Admissions Consultants will guide you well, letting you consider all factors and working with you for a deeper assessment of your goals. This will help you take the decision that is most likely to prove the best for you in the long run.
Try to look at your profile as objectively as you can and using the inputs from the best MBA Admissions Consultant you can find in Delhi, analyze in depth what your learning objectives should be. Consider carefully the available academic as well as other learning plus engagement opportunities. Find out which programme offers the specialization that is most desirable for you. Also think about the kind of learning you will find useful and interesting. If the courses are aligned with your goals, you will have more opportunities to gain insight and be introduced to new ideas in your chosen field. The MBA Admissions Consultants who are well-versed with the programmes' structures and offerings, and remain up-to-date about changes can help in this study.
It is important to know the career support you can expect from the programmes you have been selected to and what each programme is going to add to your profile. Going through the connections to different industries that the schools have and where the alumni are working may give some idea regarding what can be expected. Seek the help of MBA Admissions Consultants knowledgeable in this regard.
If possible, visit the schools you have been selected to so as to get a better sense of available opportunities and facilities. You can also try to get in touch with current students and alumni of these schools.
Another consideration is where you want to work. Choose the school that falls in or around the city you want to work in or the school that has a track record of graduates working in the area of your choice. Some experienced MBA Admissions Consultants in Delhi can provide insights on this.
Some people give weight to the level of global exposure and diversity that are found at different schools. Forming a network spread across the globe and developing the ability to work with a diverse set of people are attractive opportunities, for sure. Analyze, with a reputed Consultant's help, whether these hold importance for you and whether they serve an end in view of your goals.
One not-so-important factor is the cost and the availability of financial aid. If you have been selected to some one-year programme, you will be able to save on time and money but make sure it is right for you.
Your final decision should be taken after discussing with the best among MBA Admissions Consultants.