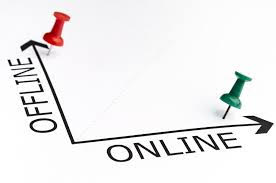 Once you have decided to go for an MBA course, you would definitely target admission in one of the premier institutes of the US. A high GMAT score, along with excellent academic record and professional work experience, can transform your goals into reality. For acing the GMAT exam, you would start looking out for means to achieve your goals. There are two good options in front of you- Online GMAT course and Conventional Classroom Coaching. Both these options have their own pros and cons. Then, which one to choose? You need to consider the following parameters before making your choice:
Infrastructure
If you are opting for an online GMAT course, you need to ensure that you have a laptop with internet connection. A low bandwidth or poor internet connectivity will not allow you to download files or view online GMAT videos by experts. If you are staying in a remote city with not as good GMAT coaching institutes as you find in Noida, then an online GMAT course offered by these reputed coaching institutes in Noida would be the most effective option for you, provided you have good internet connectivity.
Time
If you are a working professional or a student with exams round the corner, you might find yourself in a time crunch. Commuting for your GMAT classes on a regular basis can be taxing plus it will eat away your time which could be spent more fruitfully. Weekend coaching classes could be a better option for you if you have sufficient time before your exams else online GMAT course by experts in Noida would be the best choice for you.
Persona
Are you the kind of person who is focussed and disciplined enough to diligently follow a study plan sincerely? If yes, then an online GMAT course offered by the best trainers in Noida should be your choice. But if you are the kind of person who wants to regularly interact with people and have a social structure around you to boost your performance, then, opt for a conventional GMAT classroom coaching.
Experts
No doubt, the GMAT conventional classroom coaching in Noida would provide you access to the expert tutors. You can personally get your doubts clarified and reach out to them anytime. That does not mean that you cannot reach out to online experts. But, accessibility, personal touch and individual attention are more in case of GMAT classroom coaching.
Video versus Live Experience
The advantage of online GMAT videos is a never-before experience. You can pause, rewind and replay the video numerous times till you get a thorough understanding of the concepts. You can view this video at your convenience whereas you might miss your regular class in case some work commitment keeps you busy at that time.