ACCESS TO BOTH EDITIONS
Our GMAT courses as well as test series have been updated for the GMAT Focus edition.
Irrespective of which version of the course you are enrolled for, you will be given equivalent course access to both traditional GMAT and the GMAT Focus edition!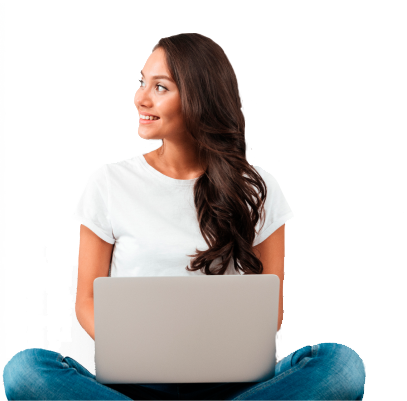 The only company with nearly-perfect reviews for course as well as test-series!
Test series ratings as per verified reviews...
---
Course ratings as per verified reviews...
Read reviews on
Logos belong to respective companies
5000+
Takers Worldwide confirmed
Great sync with GMAT scores!
3 Key Questions!
How do we ensure that questions are congruent to GMAT's?
Every question prepared by us is inspired by a GMAT question. Referring to the question used for inspiration, we come up with a brand-new, parallel context covering all the traps (and we generally avoid adding further traps/spin). This way, each question on our platform is original and our intellectual propertly but completely congruent to questions on the GMAT.
How do we ensure due difficulty-level for each question?
Each question on our platform is assigned a difficulty rating on the basis of performance of several hundred students on the question. We periodically revisit each question to analyze most recent performance and accordingly, recalibrate the difficulty assigned.
How do we ensure that the scoring on our platforms is representative of one's true level on the GMAT?
We work really hard on our alogirthm! To give our students the taste of real GMAT on way to 700+, we follow an "adaptive-penalty" scoring model rather than an "adaptive-ordering" scoring model. Hence, the penalty/reward on a question is linked with the difficulty of the question. We modeled our original algorithm on the basis of performance of hundreds of our volunteer GMAT students vis-a-vis their performance on the official mocks and the official GMAT; ever since, we have periodically repeated the exercise and recalibrated our algorithm. The general feedback we receive from students, in -person or over the web/forums/reviews is that scores on our platform are in close sync with the scores on the official GMAT.
Preparation for any standardized examination is incomplete without due practice on full length mock tests; unfortunately, no single source provides enough number of high quality GMAT practice tests to ensure that a GMAT aspirant doesn't run out of practice. GMAT test series are sometimes too easy, sometimes too difficult, often irrelevant, and always inadequate. As GMAT takers and mentors thereafter, we realized this challenge faced by the GMAT aspirants worldwide. Through this powerful GMAT test series, we addressed this problem for good!
15 full length GMAT practice tests
Ensuring that you practice freely, without worrying about the count of GMAT mocks available!
Video as well as text solutions
The videos show how to solve difficult questions in 1-minute. Detailed text solutions.
Rigorous analysis
Exhaustive graphs and tabular data, conferring deep insight into your performance.
Insightful diagnosis
Five weakest areas in Quant and Verbal, on your three most recent GMAT mocks, always highlighted on the home screen.
Link to concept videos & exercises
With explanations, link to respective concept video with a short exercise. Keep conquering weaknesses!
Detailed pointers for AWA
A detailed video (as well as text explanation), suggesting the key points for each essay topic. WORLD'S MOST 'COMPLETE' GMAT COURSE
WORLD'S LOWEST FEE LIMITED PERIOD OFFER
Complete Prep
15 GMAT Practice Tests
How to Use the Platform
FAQs
Q: Are all tests available for GMAT Focus edition?
A: Yes.
Q: Do all the 15 GMAT mock tests have the Select Section Order feature?
A: Yes.
Q: Do all GMAT mocks include all the sections?
A: Yes.
Q: Do all questions in the GMAT test series include video solutions?
A: Yes. Video solutions as well as text solutions.
Q: Is it advisable to take the GMAT practice tests only towards the end of preparation?
A: No. Building the balance of speed and accuracy is a gradual process. Serious aspirants must intersperse the GMAT practice tests in their preparation right from the first week. It is advisable that you take one test per week and increase the frequency to 2-3 per week during the final few weeks of your preparation.
Q: Is the scoring in the GMAT mock tests accurate?
A: Nobody has access to the actual GMAT algorithm and hence, it would be incorrect to claim that our scoring is accurate. However, we have taken into account, various factors that decide the score; these factors include number of incorrect attempts, difficulty level of incorrect attempts, whether you got questions incorrect in bunches, whether a few questions were left un-attempted etc. Overall, we have applied serious knowledge and experience in coming up with a robust algorithm that gives you a fine estimate of your overall level. Edit in 2023: More than 5,000 students worldwide have confirmed great sync between their GMAT scores and the scores in our GMAT test series; the sync is in overall scores, sectional scores, as well percentage correct questions as per the ESRs.
Q: Are the GMAT mock tests adaptive?
A: Imagine you are starting your preparation from a 50th percentile. Should you be solving 50th percentile tests then? If you do so, how will you improve? We deliberated a lot over this aspect and decided to give our tests, the feel of 90th percentile GMAT tests. Hence, each test in our software has been adapted to feel the way GMAT would feel on one's journey to 700+ score; this way, you are always exposed to an overall difficulty level that you will practically face on the GMAT when you are fully prepared! The algorithm calibrates itself to give you a fair estimate of your true level, however low or high, nonetheless.
Q: Are more GMAT practice tests needed?
A: Every GMAT taker must attempt the GMAT mock tests by mba.com; these come directly by the test makers and thus, apply the original algorithm. We strongly recommend these official mock tests when you are closer to your GMAT. Apart from these, 15 practice tests provided by Experts' Global must suffice.
Q: What if I need a comprehensive course together with the 15 GMAT practice tests by Experts' Global?
A: Experts' Global is the proud creator of what is factually the world's most 'complete' GMAT program, at the world's lowest fee! Find all details on this page- GMAT Online Program
Q: Can the 15 GMAT mocks be repeated?
A: No. We have deliberately not given the option to repeat the mock tests. Repeated tests do not give the same exam experience and the exaggerated scores do more harm than good. We have, rather, solved the bigger problem by giving you 15 tests so that you don't need to repeat the tests!
Q. Can the tests be reset on special request?
A. In interest of ensuring that the tests do not give a false impression, the feature of repeating or resetting the test has not been included in the software. Please do not insist us on resetting the tests.
Q: Is it possible to get a copy of our slides, downloadable videos etc?
A: No. This is an on-demand GMAT online program. Sharing downloadable copies of our content is not the model and strictly against our IP policy. Hence, on a humble note, please do not insist. This is not an FAQ (as students understand how on-demand programs work) but we are still adding it here for extra clarity. Thank you for understanding. WORLD'S MOST 'COMPLETE' GMAT COURSE
WORLD'S LOWEST FEE LIMITED PERIOD OFFER
Need complete GMAT Prep?
World's Most 'Complete' GMAT Prep...
World's Lowest Fee!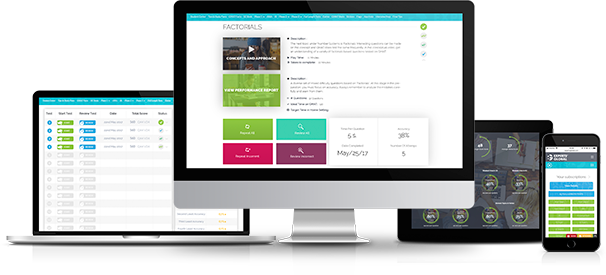 Thorough Analytics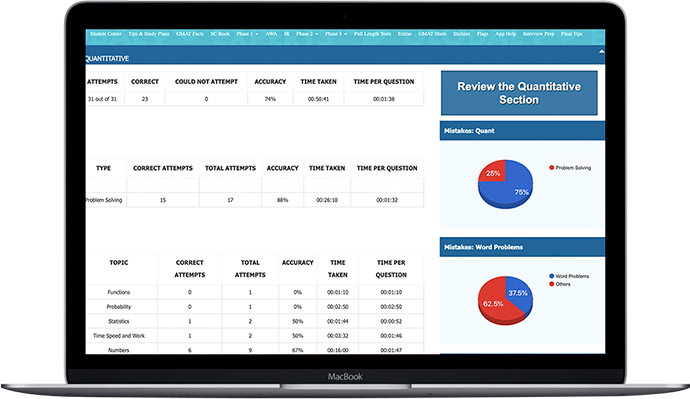 Insightful Diagnostics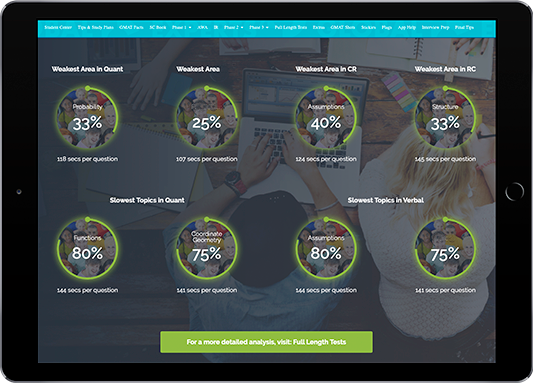 Looking for GMAT Prep as well as Admission Consulting?
Bundle options...