GMAT Eligibility
Developed in 1953 by the Deans of 9 top-notch B-schools, the Graduate Management Admission Test, GMAT, is the most standardized assessment test for management admissions. The test has been particularly designed to examine the verbal and analytical reasoning skills of the candidate, skills that are integral to succeeding in the realm of business management. Incidentally, most B-schools accept the GMAT scores instead of the GRE scores, so much so that ETS provides a tool to convert GRE scores to GMAT to allow objective analysis of candidates' profiles. The first GMAT test was taken in 1954 by 1291 students and since then, the purpose and necessity of this test has been profoundly realized by all candidates seeking to pursue MBA or Masters program. According to a study conducted by GMAC, in a single year 243000 GMAT tests are taken and 493000 GMAT scores forwarded to B-schools, mostly to MBA programs.
GMAT Eligibility: Snapshot
Age: You must be above 18 years old to take the GMAT
Nationality: Your nationality does not determine your eligibility take the GMAT
Academic Background: You can take the GMAT regardless of your academic background
Knowledge of English language: You must be acquainted with the basics of the English language to take the GMAT as GMAT tests your written communication skills in English
Professional Experience: You can take GMAT regardless of your professional experience
Taking GMAT as Specially-abled: GMAC provides special accommodations to enable the specially-abled take GMAT

---
What are the requirements for taking GMAT?
Although GMAC follows strict test taking policies, the requirements for taking GMAT are not much stringent. You can take the GMAT if you meet the following eligibility criteria:
At what age can I take GMAT?
You must be 18 years old to be able o take the GMAT.
GMAT does not put any cap on the upper age limit of the eligible GMAT test-taker.
If you are between 13 and 17 years of age and desirous of taking the GMAT, you must submit a written acknowledgement of your guardian's consent to allow you to take the GMAT. Download the Parental Consent Form and email it to GMATParentalConsent@Pearson.com.
Does my nationality determine my eligibility to take GMAT?
You can take the GMAT regardless of your nationality.
If you are the citizen of one country and are required to take the GMAT in another country, you must be able to produce your unexpired passport as proof. For such situations, you must contact the GMAT Customer Care service of your region.
The ID proof requirements may vary from country to country. For instance, in some countries you may have to present a valid passport even if you hold other forms of valid government IDs. GMAC has laid down detailed instructions on the acceptable ID proofs for GMAT registration.
What should be my academic qualification to take GMAT?
There is no defined requirement of academic qualification to be able to take GMAT.
You may be a final year undergrad student in a recognized institution/university and register for GMAT.
You may be a highly qualified (completed higher levels of education such as Masters) and register for GMAT.
You may have only completed your undergrad program and are a working professional and take GMAT.
Do I need to have an academic background in any particular discipline to take GMAT?
No, you do not need to possess a specific academic background in any particular discipline to take GMAT.
You must be well acquainted with the tenets of the English language and formulae of Mathematics to be able to ace the GMAT.
What is the cut-off mark or grade to qualify for GMAT?
You do not need any cut-off marks or grade to register for GMAT.
Do I need to know English to take GMAT?
Yes, you must be proficient in English to register for GMAT.
You must be well acquainted with the standard norms of written English to be able to take the GMAT test.
You must be able to read, understand, or comprehend written or verbal communications in English to be able to take GMAT.
You must be able to clearly state your perceptions and ideas in English in both written and verbal mediums of communication to be able to take GMAT.
The medium of instruction at my school/college was not English, can I take GMAT?
Yes, you can take GMAT even if the medium of instruction at your school/college was not English.
You must be proficient in both written and spoken forms of the English language.
Is work experience mandatory to register for GMAT?
No, work experience is not mandatory for registering for GMAT.
You can be an experienced professional or an undergrad or even post-grad student and take the GMAT.
However, all global B-schools mandate a minimum of 2 years of professional experience for applying to MBA programs.
Can I take GMAT if I am specially-abled?
Yes, you can take the GMAT if you are specially-abled.
GMAC provides special accommodations for specially-abled candidates.
You must submit a proper explanation of your medical/physical condition by filling up the GMAT Exam Accommodations Request Form.
However, you need to wait for GMAC's response on your accommodation request before you can register for GMAT.
Can I retake GMAT?
Yes, the GMAT exam can be retaken.
You can retake GMAT up to 5 times in a year.
You can retake GMAT up to 8 times in a lifetime.
You can retake GMAT after 16 days from the date of your last scheduled GMAT appointment.
In the rare situation that you want to retake GMAT even after scoring the perfect 800, you cannot retake GMAT before 5 years from your last scheduled GMAT appointment.
Opt for a free GMAT mock test to assess your need for preparation for GMAT. Ideally, you should begin your GMAT test prep process by taking the mock test to understand your level of preparation and accordingly time your study schedule.
How to take the GMAT exam?
To take the GMAT test, you need to register on mba.com and create your profile. The registration process will need you to complete the following milestones:
Enter Personal Information
Enter Profile Details
Verify Profile
Schedule Your Exam
Confirm Exam Details
Pay for your Exam
Registration Complete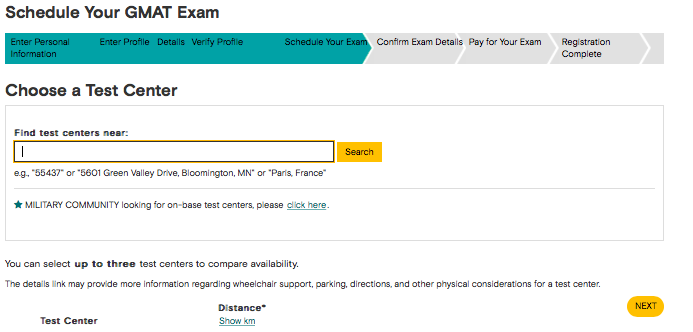 To schedule your GMAT appointment, you will have to first find a test centre near you. While selecting your GMAT test centre, always check for the following:
If you will be able to commute to the test centre
The administrative service at the test centre. For the same you can check the GMAT test centre reviews on gmatclub.com
Once you enter your preferred test centre location, you will be presented with a list of available GMAT test centres at or around the location. You may select up to test centres. In the next step, check for availability of the test centre. Here, too, you can enter your preferred GMAT test taking date and you will be presented with a list of available options on or around the date.
Select your GMAT test centre and date and confirm your appointment to complete the registration process. You can even register for GMAT on phone, via postal mail, or fax. You may contact the GMAT customer care service of your area for further details on the same.
What is the right time to take the GMAT?
Ideally, you should take the GMAT months prior to the application deadlines of your desired MBA or Masters program. MBA or Masters application is an extensive process. You need to collate documents and prepare good essays, all of which takes up considerable time. So, considering that you need a month to complete your application process, you must keep a buffer of another month, provided you feel the need to retake your GMAT.
Enrol to the online GMAT preparation program to save on valuable time and keep to your learning schedule.
What is the cost of taking GMAT?
The cost of registering for GMAT is only USD 250. However, the total cost of taking GMAT will also include your cost of preparations, if you want to reschedule or retake the GMAT, etc. A brief overview of the charges for each GMAT services is presented below:
| | |
| --- | --- |
| Scheduling GMAT | USD 250 |
| Rescheduling GMAT | USD 60 – USD 250 |
| Cancelling GMAT Date | USD 80 Refund to No Refund |
| Cancelling GMAT Score (after leaving GMAT test centre) | USD 25 |
| Reinstating GMAT Score | USD 50 |
| Requesting Revision of GMAT AWA score | USD 45 |
| Additional GMAT Score Reports | USD 35 for each |
| Enhanced GMAT Score Report | USD 30 |
Experts' Global offers the most GMAT full-length practice tests.
Where can I take GMAT?
GMAC conducts the GMAT exam through its 550+ centres spread across 110+ countries in the world.
Before going for your GMAT test, ensure that you have read and understood the GMAT test centre rules and GMAT test taking policies as stipulated by GMAC.
Provided below is a list of the countries where you can take the GMAT, organized according to region:
United States
Alabama
Alaska
Arizona
Colorado
Connecticut
Delaware
District of Columbia
Hawaii
Florida
Idaho
Illinois
Indiana
Iowa
California
Georgia
Maine
Maryland
Michigan
Minnesota
Mississippi
Montana
Missouri
Nebraska
Nevada
New Hampshire
New Jersey
New Mexico
New York
North Carolina
North Dakota
Ohio
Oklahoma
Oregon
Pennsylvania
Rhode Island
South Carolina
South Dakota
Tennessee
Texas
Utah
Vermont
Virginia
Washington
West Virginia
Wisconsin
Wyoming
U.S. Military
Afghanistan
British Columbia
District of Columbia
Iraq
Italy
Maryland
Netherlands
South Korea
U.S. Territories
American Samoa
Guam
Puerto Rico
Virgin Islands
Americas
Argentina
Bolivia
Brazil
Canada
Chile
Colombia
Costa Rica
Dominican Republic
Ecuador
El Salvador
Guatemala
Honduras
Jamaica
Mexico
Nicaragua
Panama
Paraguay
Peru
Trinidad and Tobago
Uruguay
Venezuela
Asia-Pacific
Australia
Bangladesh
China
India
Indonesia
Japan
Kazakhstan
Korea
Malaysia
Marianas Protectorate
Mongolia
Myanmar
Nepal
New Zealand
Pakistan
Philippines
Singapore
Sri Lanka
Taiwan
Thailand
Uzbekistan
Vietnam
Europe, Middle East, and Africa
Austria
Azerbaijan
Bahrain
Belgium
Botswana
Bulgaria
Cameroon
Croatia
Cyprus
Czech Republic
Denmark
Egypt
Ethiopia
Finland
France
Georgia
Germany
Ghana
Greece
Hungary
Iceland
Ireland
Israel
Italy
Ivory Coast
Jordan
Kenya
Kuwait
Kyrgyzstan
Latvi
Lebano
Lithuani
Macedoni
Mauritiu
Moldov
Morocc
Netherland
Nigeri
Norwa
Oma
Polan
Portuga
Qata
Romani
Russi
Saudi Arabi
Senega
Serbi
South Afric
Spai
Swede
Switzerlan
Tanzani
Tunisi
Turke
Ugand
Ukrain
United Arab Emirate
United Kingdo
Yeme
Zambi
Zimbabwe
What is the GMAT test pattern?
The Graduate Management Admission Test is a 3 hours 7 minutes long standardized admission test, divided into 4 sections – Quantitative Reasoning, Verbal Reasoning, Integrated Reasoning, and Analytical Writing Assessment. Although the Official Score Report provides the distinct section scores, the total GMAT score is computed only on the Quantitative and Verbal Reasoning sections scores; the Integrated Reasoning and Analytical Writing Assessment sections scores do not add to the total GMAT score. Provided below is a brief overview of the GMAT exam format:
| Test Section | No. of Questions | Type of Questions | Time | Score Range |
| --- | --- | --- | --- | --- |
| Analytical Reasoning Assessment (AWA) | 1 | Analysis of an Argument | 30 minutes | 0 to 6 |
| Integrated Reasoning | 12 | Graphic Interpretation, Table Analysis, Multi-source Reasoning, Two-part Analysis | 30 minutes | 1 to 8 |
| Quantitative Reasoning | 31 | Data Sufficiency, Problem Solving | 62 minutes | 6 to 51 |
| Verbal Reasoning | 36 | Reading Comprehension, Critical Reasoning, Sentence Correction | 65 minutes | 6 to 51 |
All the best!